Meet The Harris Dental Boutique Team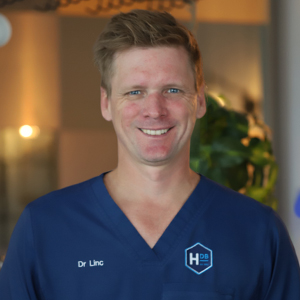 Founder/Principal dentist
Deeply connected to the Bundaberg region, Dr Linc embarked on his dentistry journey more than two decades ago when he established his dental practice in Bargara. With an impressive background, he has been consistently enhancing his dentistry skills over the past 24 years.
Dr Linc's academic pursuit commenced at the University of Queensland, where he earned his Bachelor of Dental Science with first-class honours. His extraordinary academic achievements led to his induction into the prestigious Golden Key International Honour Society, a testament to his relentless pursuit for excellence.
In addition to his practice, Dr Linc is also the CEO and Founding Director of Ripe Global, an international dental education company. He teaches dentists in over 22 countries, shaping international standards in dental care and education.
What sets Dr Linc apart from many in his field is his unique skill set. He is among a select few dentists who can handcraft high quality ceramic veneers in his own clinic. He possesses the ability to perform orthodontics, gum reshaping, and implantology to achieve a comprehensive result. 
His approach involves understanding patients' goals, helping them navigate through fears and anxieties related to dentistry, and ultimately transforming smiles in ways that significantly enhance their confidence and quality of life.
Outside of his professional endeavours, Dr Linc is happily married and a proud father of four children. In his leisure time, he is often found enhancing the beauty of his garden, reflecting his commitment to creating beauty in all aspects of his life.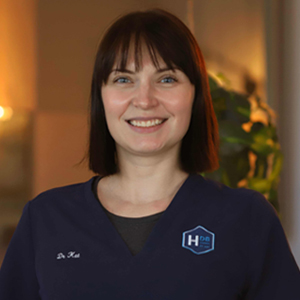 Born in Tver, Russia, Dr Kat has committed over 13 years to the field of dentistry, receiving her Bachelor of Dental Surgery from Tver State Medical Academy, Faculty of Dentistry, in 2010. Dr Kat found her passion in the precise and artistic aspects of dentistry, specifically creating new teeth and veneers from ceramic, straightening teeth with clear aligners, and performing Root Canal Treatments (RCTs). 
Dr. Kat, an integral part of the team at Harris Dental Boutique, is distinguished by a particularly beneficial trait – her calming and gentle demeanour. This characteristic fosters a sense of tranquillity in patients, creating a soothing atmosphere during their treatments. 
She finds joy in treating patients who openly share their concerns and those with high aesthetic standards. She views these demanding expectations not as challenges, but as opportunities to showcase her precision and to exceed patient expectations. The ultimate reward for her is seeing patients leave with restored smiles and renewed self-confidence.
Away from dentistry, Dr. Kat has shown her commitment to serving the community. She spent two years volunteering with the State Emergency Service (SES), where she played a pivotal role in responding to water-related emergencies.In spare time Dr Kat enjoys going for a run as she believes that a healthy body fosters a healthy mind.
Originally from Malaysia, Dr Jun is a trilingual dental professional who is fluent in English, Mandarin, and Malay. He relocated to Australia seven years ago, where he earned his Bachelor of Dental Science from the University of Queensland.
With a focus in restorative and cosmetic dentistry, Dr Jun passionately transforms lives by enhancing smiles. His patient-focused approach is evident in his comprehensive smile makeover plans, a unique aspect of his practice that highlights his artistic flair in smile design.
Dr Jun is known for his gentle and caring approach, fostering a judgement-free environment for dental care. He derives immense satisfaction from treating anxious patients and those who are seeking cosmetic improvements to their teeth. For Dr Jun, each patient interaction presents an opportunity to alleviate fears and bring a renewed sense of confidence to their lives.
Outside of his professional commitments, Dr Jun stays fit and nurtures his teamwork skills through his love for the vibrant game of basketball.
Katelyn, born in the picturesque town of Bundaberg, graduated with distinction from Central Queensland University with a Bachelor of Oral Health. She has been an integral part of the Harris Dental Boutique team since 2011, showcasing not only her clinical expertise but also her unwavering dedication to patient care.
With over 6 years as an Oral Health Therapist and a total of 12 years immersed in the dental industry, Katelyn's commitment to professional development is evident.
She's undergone specialised training, including the Anterior Hands-on Restoring Excellence and Posterior Quadrant Dentistry Hands-on Restoring Excellence, both in 2019. Moreover, her continued learning journey took her to the Orofacial Myology course, fortifying her understanding of intricate dental connections.
Katelyn's authority in the field is further solidified by her role as a Dental Educator for Ripe Global and her notable experience lecturing at a hands-on course in Sydney for dental auxiliaries in 2018.
Katelyn's unique blend of skills extends beyond traditional dental care. She has played a vital role in identifying airway obstructions in children, an intervention that has led to transformative results in their oral health, breathing, and overall behaviour. Her restorative focus has been instrumental in not only improving oral health but rejuvenating patient confidence and their outlook on dental care.
Katelyn's approach to dentistry is holistic. She believes, "Dentistry is not just about teeth; it's about helping people to live their best life." This sentiment shines through her daily interactions with patients, creating an environment of trust, care, and genuine interest in their well-being. 
She is particularly sensitive to patients with dental anxiety, and she is committed to helping them overcome their fear and get the treatment they need. She's known for her voluntary dental contributions in rural Vanuatu and fervently supports the May 50k initiative for Multiple Sclerosis awareness. 
Outside the clinic, Katelyn's adventurous spirit leads her to discover new locales, while her love for upcycling and culinary experiments keeps her creative. Winding down, she cherishes spending time with family, peaceful walks with her dog, Kylo, and heading to the beach.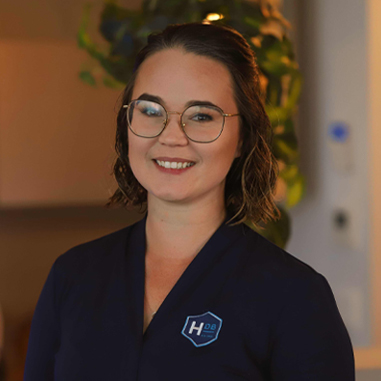 "Working for Dr. Linc at Harris Dental Boutique has been such a positive journey. It's so heart-warming to help anxious patients experience a new way of getting dental treatment and to watch our patients confidence grow once they start to love their smile.
Each day brings it's challenges but working alongside a caring, passionate and fun team makes coming to work so enjoyable. The whole team are given the freedom to implement their ideas and grow into new roles they're interested in no matter what position they hold which creates such a positive and encouraging work environment. I wouldn't want to be anywhere else."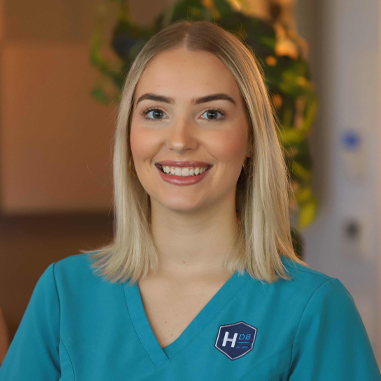 "I love the smile transformations and watching patients confidence grow. I love the education side of things, learning from Linc and expanding my knowledge about the dental industry. I love working with inspiring and knowledgeable people who allow me opportunities to grow."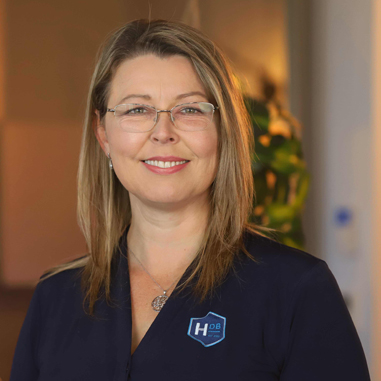 "I like having the freedom to do our job properly and efficiently here at Harris Dental Boutique without any restrictions. The expectations are high resulting in quality dentistry. I love the coffee!"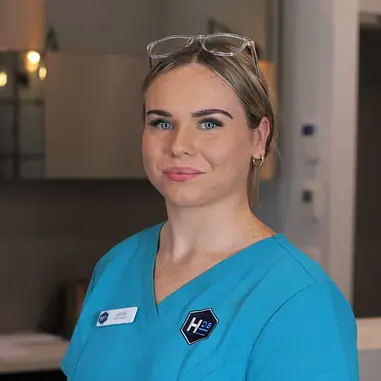 "Everyday at Harris Dental Boutique is interesting, I love that. I love the people I work with, we have a great team and everyone works together"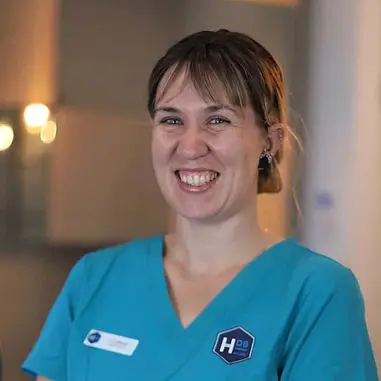 "We work in a really supportive environment, being encouraged to grow and expand our knowledge on a daily basis"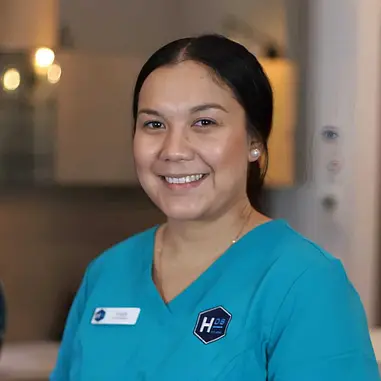 "We have such a great team. It feels nice to work in such a positive and fun environment. So many of our patients come to their appointment nervous and its nice to help them feel comfortable"