What Is A Smile Makeover?
A Smile Makeover consists of one or more dental treatments, carefully customised to help you regain your best smile. Your dentist will create a detailed treatment plan considering your individual goals, oral and facial structure and colouring, dental and general health, and budget. You will even be able to try and preview your new smile and request any adjustments.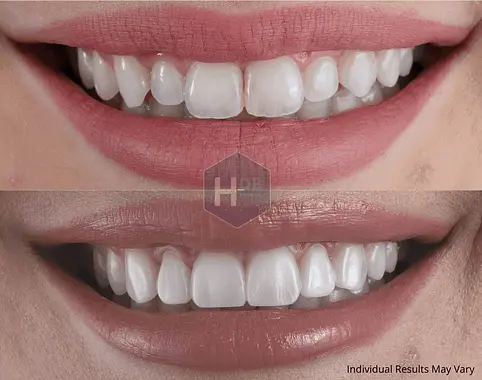 At Harris Dental Boutique, we offer a full range of smile makeover treatments tailored to your specific needs:
Full arch dental implants: ideal for restoring a full arch of missing or damaged teeth and replacing dentures.
Dental implants: great for permanently replacing one or more missing or damaged teeth and fill the gaps in your smile.
Orthodontics (Invisalign & traditional braces): ideal for correcting crooked teeth, gappy teeth or misalignments.
Porcelain veneers: perfect SmileFast veneers for improving your teeth's colour, size, and shape.
Dental bonding: great for filling small gaps, repairing filling chips, and covering stains.
Porcelain crowns: ideal for extending the durability and life of weakened teeth.
Gum contouring: great for treating a gummy smile to show more of your teeth.
Teeth whitening: perfect for brightening & whitening your smile.
What are the steps for a Smile Makeover?
This involves a comprehensive dental health assessment, including digital X-rays, photographs, and possibly 3D imaging, to understand your current oral health condition.
Discuss the line of treatment to follow and your expectations
Your dentist will outline potential treatment options based on your dental needs and desired results, facilitating an open conversation about your expectations and concerns.
Design, preview and try your new smile
Using modern technology such as SmileFast, your dentist will provide a virtual representation of your proposed new smile, which can be adjusted before the finalisation of the treatment plan.
This stage involves the application of the agreed-upon treatment plan, be it veneers, crowns, teeth whitening, orthodontics, or implants, resulting in your brand-new smile.
Dr Linc and his team of skilled dentists are highly experienced and have undergone extensive training to handle even the most complex dental issues. Rest assured that you'll be in good hands with them for your smile makeover.
What is the timeline of the smile makeover treatment at Harris Dental Boutique?
Smile makeover treatments vary in duration, according to the treatments needed, the complexity and your oral health condition:
Dental Implants ~ 3-9 months
Clear Aligners ~ 4-18 months 
Braces ~ 6-24 months
Porcelain Veneers ~ 2-4 weeks
Dental Bonding & Fillings ~ 1 week 
Crowns & Bridges ~ 4 weeks
Whitening ~  90-minutes

During your consultation, you will discuss the customised treatment plan and its timeline with your dentist.
What are the benefits of a smile makeover?
Enjoy increased confidence and satisfaction
Patients confide in us about avoiding the camera, skipping social interactions, and feeling hindered in their professional environment due to dental imperfections. Fortunately, cosmetic treatments offer effective solutions for addressing issues like chipped, discoloured, irregularly shaped, or missing teeth. This paves the way for enhanced self-assurance and improved personal and work-related experiences.
Invest in a lasting smile with cosmetic dentistry
Investing in a smile that stands the test of time is like wearing the perfect accessory. Cosmetic dental treatments, surpassing other enhancements, offer longevity with results lasting ten, fifteen, or even twenty years. This not only reduces maintenance costs but also has the added benefit of diminishing signs of ageing while addressing hereditary, traumatic, and developmental dental concerns. Embrace a timeless smile that defies age and repairs imperfections with cosmetic dentistry.
Improved oral health and reduced risk of disease
For good quality of life, maintaining a healthy diet and proper digestion is vital for both physical and aesthetic well-being. Damaged, broken, missing, or worn-down teeth hinder chewing and turn eating into a tough and unpleasant task. Beyond improving appearance, cosmetic treatments enhance the functionality of chewing and eating while reducing the risk of gum disease and infections. Embrace cosmetic dentistry for a more enjoyable dining experience and improved oral health.