Your Caring DENTIST Bundaberg
Transforming Smiles for Over 20 Years: Harris Dental Boutique, Your Partner in Overcoming Dental Anxiety
Your Caring Dentists near Bundaberg
Transforming Smiles for Over 20 Years: Harris Dental Boutique, Your Partner in Overcoming Dental Anxiety

Founded in 2000 by Dr Linc, Harris Dental Boutique embodies the essence of upscale, ethical dentistry, refusing to compromise on the quality of our services for short-term gains. Our commitment to excellence is reflected in our meticulous craftsmanship, dedicated to providing quality dental solutions that will put your fears at ease so you can have your smile and confidence back.
We take great pride in offering every patient a tailored, boutique-like experience, backed by our caring and adept team of dental professionals. Our ethos is based on nurturing robust relationships with our patients; hence, we never rush through procedures. We develop clear treatment plans to avoid unexpected issues and provide clear cost details for your peace of mind. 
Services offered at Harris Dental Boutique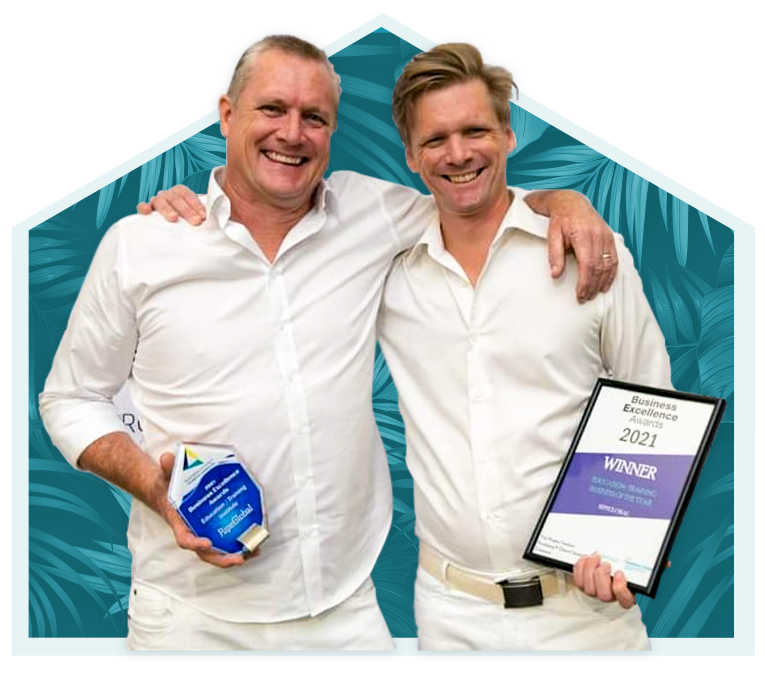 Award Winner,
Dr Lincoln Harris

Dr Lincoln Harris, the founder of Harris Dental Boutique near Bundaberg, is a highly respected dental practitioner and esteemed educator in the field of dentistry. He established Ripe Global, a dental education company that has made a profound impact worldwide, sharing his knowledge with thousands of dentists across 22 countries.
Recognised for his exceptional contributions to dental education, Dr Harris received a prestigious award from the Bundaberg & District Chamber of Commerce. This accolade underscores his unwavering commitment to excellence in both dental practice and education, ensuring patients receive unparalleled care supported by the latest advancements in dentistry. 

A few of the confident smiles we've helped create…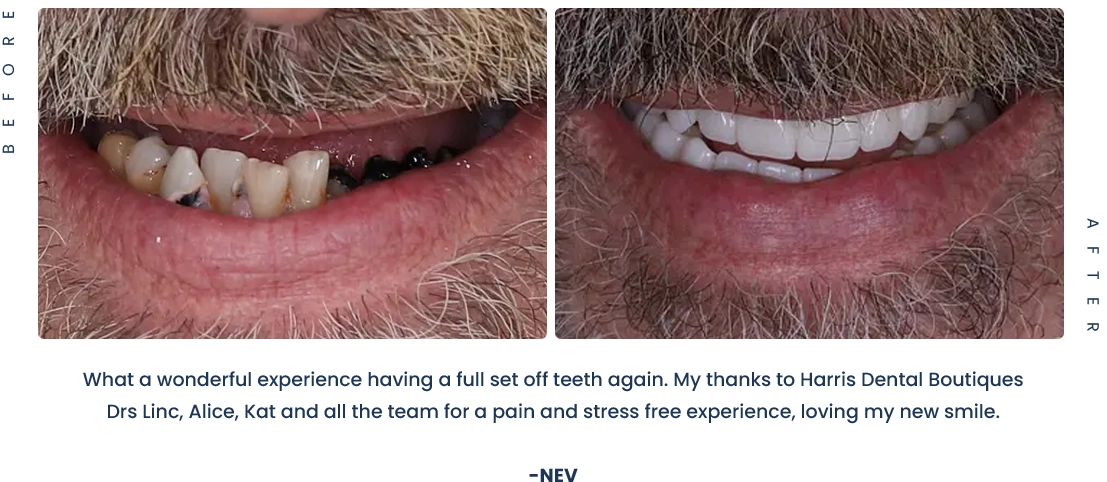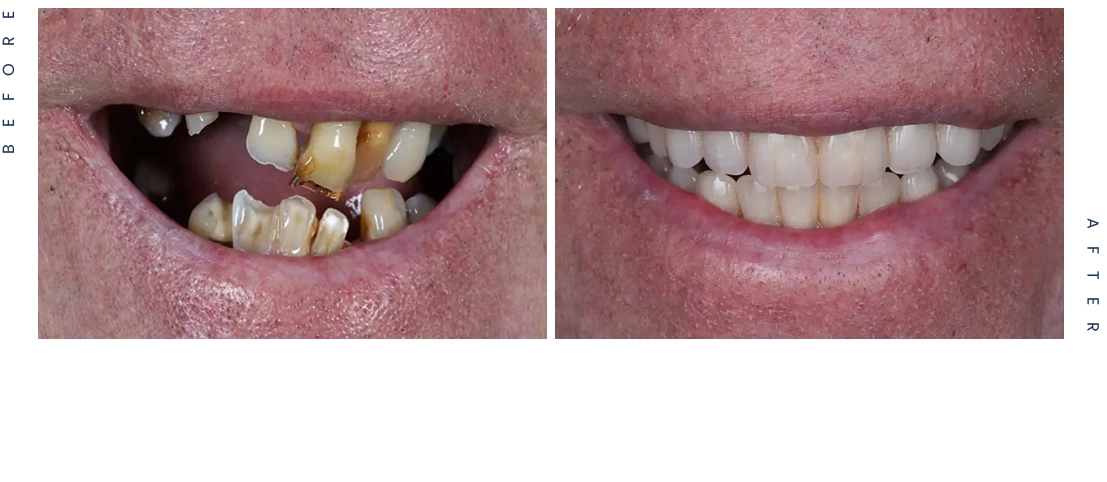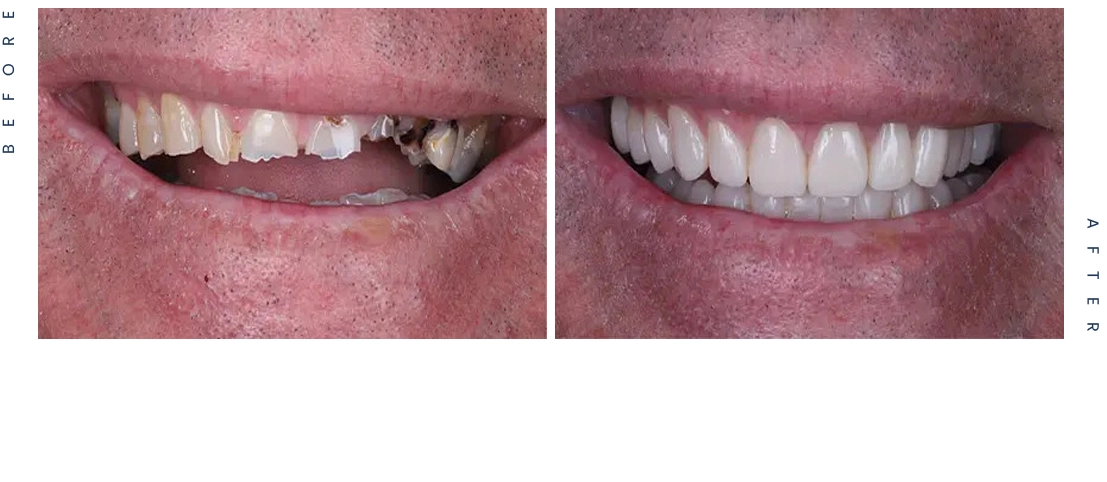 A FEW OF THE CONFIDENT SMILES WE'VE HELPED CREATE...

It had been a while since I'd been to the dentist as I've had bad experiences in the past at other practices. I had a great experience with this dentist. They were very informative and made sure I was comfortable throughout my appointments. Practice is also clean and very welcoming. Highly recommend Harris Dental Boutique!
I had a 30 year old old white crown at the front of my mouth and my surrounding teeth had discoloured over time and had much wear. I was very apprehensive and wanted to find a dentist who could create a natural look. I highly recommend Dr. Linc and the whole team at Harris Dental Boutique. Dr. Linc is professional, gentle, his manner is calming and he is a perfectionist in his work. He created a natural look which exceeded my expectations and I now smile with confidence.
Elizabeth Little
2023-05-11
I have never been to a Dentist where the staff from entry to exit were the most polite , helpful and kind people. Harris Dental Boutique go above and beyond to make you feel comfortable and understand what is happening at all times . The most professionalism I have seen in one place .
Annette Hillier
2023-05-03
The first pleasant I've ever had at a dentist. Very professional & Dr Kat was so gentle. My husband also had an appointment & felt the same way as me. Will definitely use from now in
Absolutely wonderful service and professionalism every time I visit. The staff are exceptional in what they do and couldn't be more kind or gentle. Highly recommend Harris Dental.
Love these wonderful people who are so caring, gentle and who listen to the concerns of their patients. A must if you have any anxiety of the dental kind. We are so fortunate to have this expertise right here in Bargara, and if I lived in Brissy, I would travel to Bargara for every treatment.
I travel from Brisbane to Harris Dental Boutique for all of my dental check-ups, because it is a really great place to get dental work done....especially if going to the dentist isn't a great time for you. The staff make you feel very relaxed and comfortable and I can't recommend Katelyn highly enough, as her work is brilliant every time that I go in for a check up. The premises are very modern and well designed, with things like ceiling mounted TVs and headphones, to help the time pass by while you are in your appointment. If you are looking for high quality dental, this is the place for you.
Madeline Pendergast
2022-11-24
Coming from someone terrified of dentists, Harris Dental has been phenomenal. I have noticed a quality change in fillings from other dentists around town and all my dental work from Harris Dental has outlasted them all. The staff are also amazing and always make you feel welcomed. In the end you can always tell who's had lunch because that noise probably wasn't the dental tool, it was the dentist's stomach rumbling…. Haha Couldn't recommend this place any higher.!
What types of cosmetic dentistry do you offer at your dental practice near Bundaberg?
Among others, we offer smile makeovers with veneers, dental implants, crowns & bridges and orthodontics.
What treatment options are available for missing teeth?
There are multiple treatments for missing teeth, such as dentures or dental implants. The appropriate treatment plan can only be determined after a detailed examination to ensure which option is best suitable to replace your missing teeth.
How often should one visit for a basic dental check-up?
It is advised to see your dentist for a check-up every 6 months.
Do you offer sleep dentistry at your local clinic near Bundaberg?
Yes, we offer sleep dentistry to ease the anxiety or pain related to dental procedures. We are known for our caring and gentle approach, and we have helped numerous patients to overcome dental anxiety.
I have a broken tooth. Is it a dental emergency?
If a tooth is broken, cracked, or chipped, causing severe pain or bleeding, it should be treated as a dental emergency. Neglecting such a situation can lead to severe infections and potential tooth loss, which is why immediate attention is always recommended.
What is SmileFast?
SmileFast is an affordable digital solution for designing composite veneers, allowing for predictable results and changes before bonding. It corrects discolouration, reshapes edges, restores chips, closes gaps, and adjusts minor misalignment.
Do you offer emergency dental services?
Yes, we offer emergency dental services.
What are the opening hours of your clinic?
We're open from Monday to Friday, with late and early appointments from Monday to Thursday. Please call us for the hours of availability if you need a dentist near Bundaberg. 
How can I avoid plaque build-up?
To avoid plaque build-up, you need to maintain good daily oral hygiene and visit your dentist every six months for dental check-up & clean.
Contact
Harris Dental Boutique

For high-quality, patient-centred dental care near Bundaberg Central QLD, reach out to Harris Dental Boutique. Our highly reputable dental clinic provides a wide range of dental treatments, catering to the needs of the Bundaberg community.

OPENING HOURS
Mon & Tues:
8:30 am - 5:00 pm
Sat: By Appointment
Sun:Closed