Dr Linc talks about Denture Care
Dentures are custom-made and traditionally can be taken out of your mouth and cleaned and put back in. Dentures certainly take some getting used to, they shall never feel exactly the same as your natural teeth, but Harris Dental Boutiques dentures are natural looking and more comfortable than ever. Find out more about the types of Dentures available here.
Over time, as a result of normal wear your denture will need to be relined.  Relining requires making a new base for your denture, while keeping your current denture teeth. As you age, your mouth will naturally changes shape and cause your dentures to become loose making chewing and talking difficult and irritating on your gums and mouths soft tissue. Usually an annual checkup is recommended.
Here Are Dr Linc's Top Tips to Help You Care for Your Denture

When handling dentures, always place a folded towel over a basin of water. Dentures are delicate and may break if dropped.

Keep your dentures moist. Place them in a denture soaking solution or in plain water when you're not wearing them. Only use cold water, as hot water may cause your dentures to warp.

Brushing your denture with a soft toothbrush daily will remove food and plaque, and prevent stain.

Brush your mouth including your gums, tongue and the roof of your mouth daily before you insert dentures.

If your denture breaks, chips, gets a crack, or becomes loose contact Harris Dental Boutique. Don't adjust them yourself as this can damage them beyond repair.
Are loose dentures giving you trouble?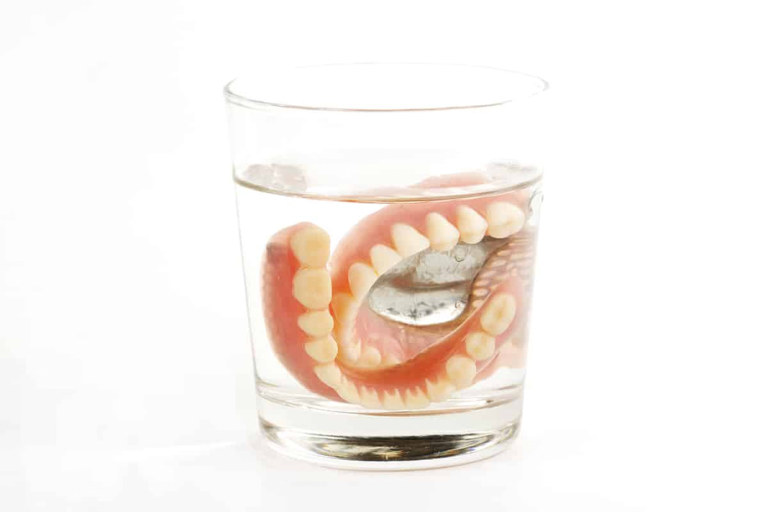 Replacing missing teeth with a well fitted denture will help to improve the function and the appearance of your smile. Without the support of a denture your facial muscles can sag and make you look older. Obversely, dentures can help you eat and speak comfortably — something that people take for granted until their natural teeth are lost.
If You Feel Like You Have Poorly Fitted Dentures
A poorly fitted denture feels like you can not bite into an apple, a steak, or any of your favourite foods or they drop down when you laugh then dental implants could be the answer. Dental implants can lock your dentures firmly in place so you won't have these denture problems. With fixed dentures using dental implants, you can regain your natural looking smile and avoid the embarrassment of slipping dentures.
Find out more about dental implants here.
Individual results may vary. Any surgical or invasive procedure carries risks. Before proceeding, you should seek a second opinion from an appropriately qualified health practitioner.