When you're considering a dentist for your cosmetic dental work there are 3 main questions you must ask them. Considering Cosmetic Dentistry? Read this first!
1.  What extra training has the dentist done since graduating dental school to allow them to do cosmetic dental work with confidence. (To get great cosmetic results it is really important to know the latest techniques and to be using the most modern products. This is changing all the time. If your dentist hasn't done any cosmetic training in the last 6 months than they are probably out of date.)
2.  How many patients have they done this type of cosmetic treatment for?  Can you talk to someone who has had this procedure? (Talking to a previous patient is a great way to find out whether this type of treatment has worked for them, whether they have had any complications and what their feelings are about your dentist's abilities.)
3. Where is the laboratory?  Who is the ceramist who will be creating your smile? (It is very important that your dentist and ceramist know each other.  When creating smiles it is vital that all the tiny details are communicated so there is no room for error.  You may even be able to meet your ceramist.)
One popular cosmetic dental procedure we do is Dental Veneers.
What are Dental Veneers?
Dental Veneers can create a bright, white smile with beautifully aligned and shaped teeth. Even better, the natural look we can create from the high-quality ceramic has never been available in the past.
As well as looking good, dental veneers can also serve a functional purpose by protecting the surface of damaged teeth. Dental veneers are custom-designed shells of ceramic that when placed over the tooth can cover a worn tooth or uneven teeth, spacing and cracks or chips.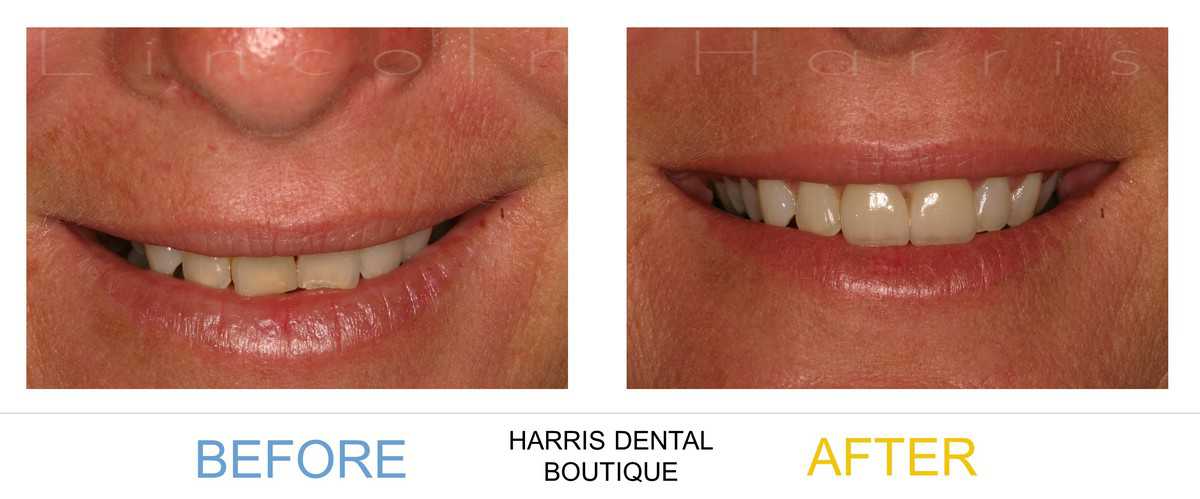 In this case, our patient was very conscious of the small chip on her front tooth and a slight overlap of the other.  She avoided photos and always covered her mouth when she smiled.  It was her daughter's wedding that finally made her do something about it.  She whitened her teeth and Ceramic Veneers were placed on her two front teeth and now she just can't stop smiling.
Individual results may vary, Any surgical or invasive procedure carries risks.  Before proceeding, you should seek a second opinion from an appropriately qualified health practitioner.  If you are looking for a Cosmetic Dentist Bundaberg talk to Dr Linc at Harris Dental Boutique.
If you haven't visited us before, we recommend you contact us for a consultation to find out how we may be able to help you. We can offer you affordable payment plans so you can achieve the smile you have always wanted. Call our office on 0741585813 or book online here.
Considering Cosmetic Dentistry? Read this first!
Looking for a Cosmetic Dentist Bundaberg