Cone Beam Computed Tomography (CBCT) Machine at Harris Dental Boutique Bargara.
Dr Linc at Harris Dental Boutique is so excited to announce the introduction of a Dental CBCT Machine at the Bargara Practice.
Dr Linc says;
"The introduction of the Cone Beam CT systems means patients at our Bargara Dental Practice receive the best dental analysis, giving us precise, safe and reliable results."
This CT scanner uses a special type of technology to generate a three dimensional (3-D) image of your soft tissues, dental structures, nerve paths, jaws and bone in a single scan.
The Cone Beam CT system is used by Dr Linc at Harris Dental Boutique for Implant Placement, Root Canal Tracing, Wisdom Teeth Extraction Planning as well as other more precise dental procedures.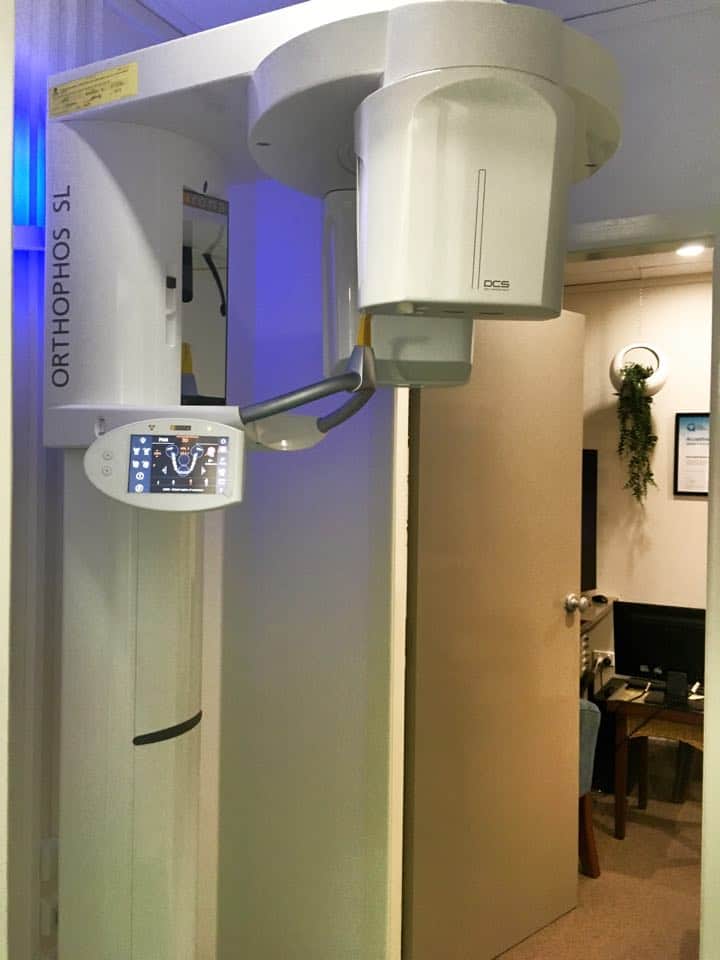 There are many benefits of using a Dental CBCT;
1. Low radiation doses compared to a medical CT.
2. More comfortable for patients, during a scan you are in an open area in a relaxed position.
3. The scan only takes about 20 seconds.
4. Results are immediately availability.
FIVE Reasons why Dr Linc chooses to use a Cone Beam CT System and why you should too:
Increased Accuracy. Dental Cone Beam CT Systems offer a higher level of accuracy than traditional CT Scanners. Increased accuracy allows Dr Linc to provide several important advantages to patients.
Safer Procedures. Since Dr Linc is able to see the exact position of your bones, nerves, tooth roots, jaws and your sinus cavities this reduces complication and risks during your dental treatment.
Higher level of precision means more predictable results in complex dental cases. Dr Linc has seen a higher rate of treatment success and better aesthetic outcomes.
Faster and more comfortable procedures – With the use of the Dental Cone Beam CT System Dr Linc at is able to provide certain dental treatment in a less invasive way than once used in traditional surgeries.
Quicker and easier recoveries – All of these advantages listed are made possible by the Dental Cone Beam CT System. Because of this Dr Linc finds patients experience less pain, swelling, bruising and discomfort after certain dental treatment. Of course this may lead to patients having shorter and more comfortable recovery after dental treatment with Dr Linc.
While these are the top 5 reasons why Dental Cone Beam CT System are an advantage Dr Linc recognises there are many other advantages. These may include fewer visits before surgery and in some cases, eliminating the waiting period between implant placement or fitted with your final crown or denture.
This is a valuable tool to have at Harris Dental Boutique Bargara and the whole team are excited to be able to provide this high level of service to the patients of the Bargara region.
If you are looking for a modern and up to date dental practice schedule a consultation appointment with the Harris Dental Boutique Bargara team and discover how the latest technology can help you. Call us on  07 4158 5813 or visit our practice at Shop 2/16 See Street Bargara 4670.
Cone Beam available in Bargara