 What is Bridge on Implants/ All- on- 4®?
Have you got loose dentures and wonder if there was something you could do to keep them in place?
Do you want to be more confident with your smile but worried about bulky dentures? All-on-4® maybe the solution for you!
The All-on-4®technology was developed by Nobel and is now a commonly used treatment concept used by many dentists and companies.
The All-on-4®treatment concept is a denture retain by 4 to 6 implants depending on the case. Bridge on implants is a non-removeable dental prothesis.
Bridge on Implants is smaller than a traditional denture and because it's fixed is more stable and has less movement making it more comfortable.
The bridge/prosthesis is made using a ceramic bridge with 10 – 12 teeth supported by a metal or gold bar. Generally, this option is for patients with lots of missing teeth, sever gum disease or badly decayed/broken teeth.
Bridge On Implants Vs. Traditional Dentures
Traditional Dentures
Both dentures and Bridge on Implants have quick turnaround time giving back your smile, but they are different from each other. Dentures rely on suction to stay in and if not fitted properly can cause ulcers and fall out. Lower dentures are often more uncomfortable as it's harder for them to stay in due to lack of suction and the tongue lifting the denture up while chewing and talking.
Bridge on Implants
Bridge on Implants don't move, they are less bulky and stay in the mouth with no adhesives required.Bridge on Implants are a more slim and comfortable option if worried about traditional dentures being uncomfortable. These are also a good option for a person who struggles with their gag reflex as they sit towards the front of the mouth.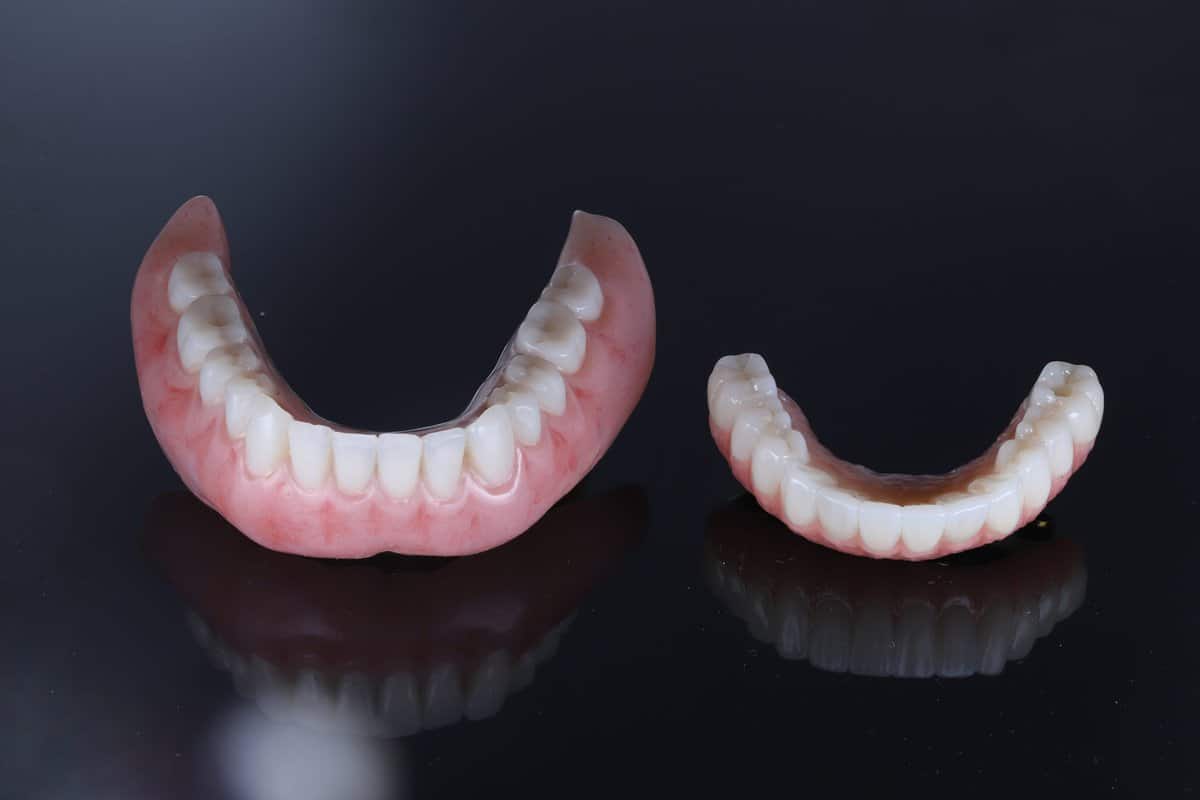 Left-Traditional lower denture, Right- Bridge on Implants on the lower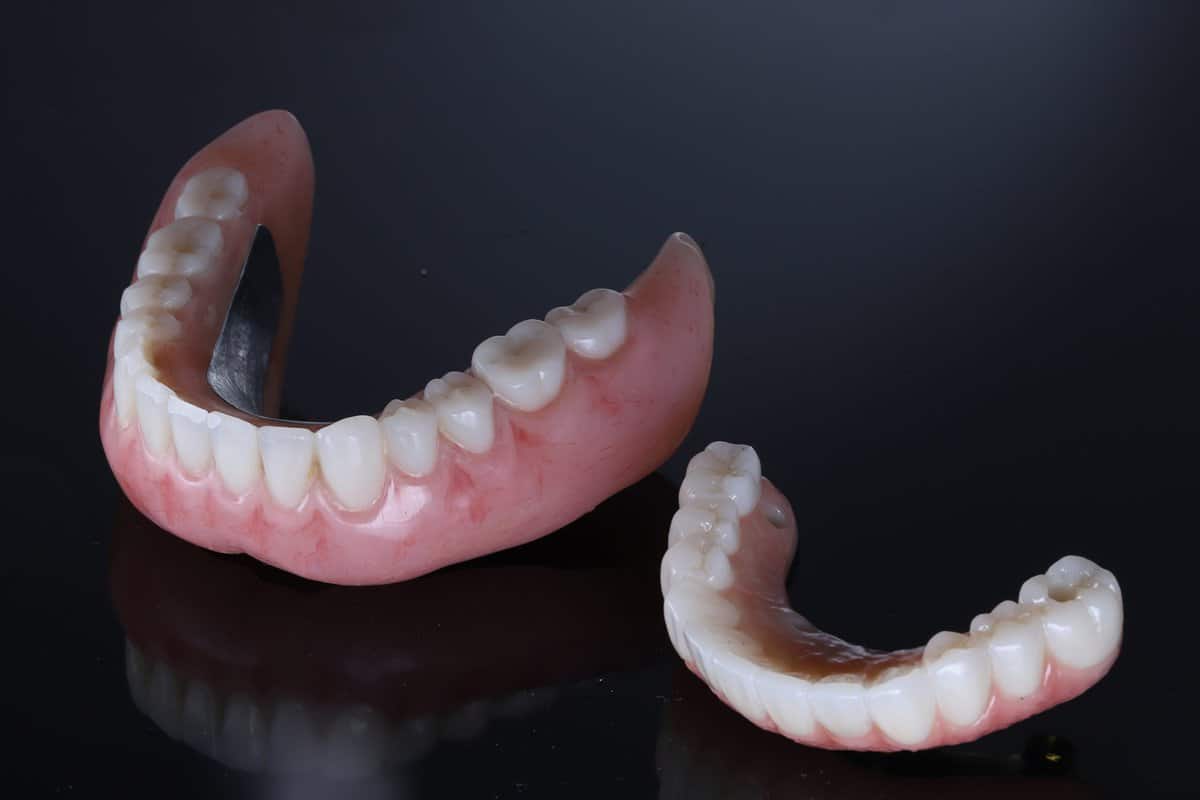 Left-Traditional lower denture, Right- Bridge on Implants
What's the process?
During your initial consultation we will need to complete a comprehensive examination, take a series of records which includes photos, a full 3D jaw x-ray and 3D digital scans to see if you qualify for this procedure. Once we determine together this treatment option is suitable for you then a surgery is booked in. Using the digital technology means you get your prosthesis designed, trialed, and fitted within a shorter period of time.
During the surgery any remaining teeth are removed, and implants are placed immediately.3D scans are then taken on the day of the surgery to have a plastic temporary prosthesis made. Your smile is designed by your dentist using our 3D scanners. This means you don't need to sit through multiple uncomfortable silicone impressions. A week later once your surgery has had some time to heal you will receive your temporary smile! You get to try your teeth before the final prosthesis is designed and made.
Your get your smile! 3 months later, once everything has healed, your final prosthesis is made and tried in. If you and your dentist are happy with how it looks your new smile is fixed to your implants.
What's different about having this done at Harris Dental Boutique? We offer sedation options such as Minimal Oral Sedation and Twilight Sedation for this surgery.
Why do we need a temporary prothesis?
After surgery the gum tissue and bone need time to recover.
The gums can be quite swollen after surgery and change shape as they heal. Therefore if the final prosthesis was made immediately there would be a large gap between the prothesis and the gum tissue when this swelling settles. This would allow food to get trapped and doesn't look good. Sufficient recovery generally takes about 3 months. So you're not without a smile we make a temporary plastic prosthesis to wear in the meantime. This is fixed in the mouth so they don't fall out or move around and gives you some time to adjust to having the new prosthesis in your mouth.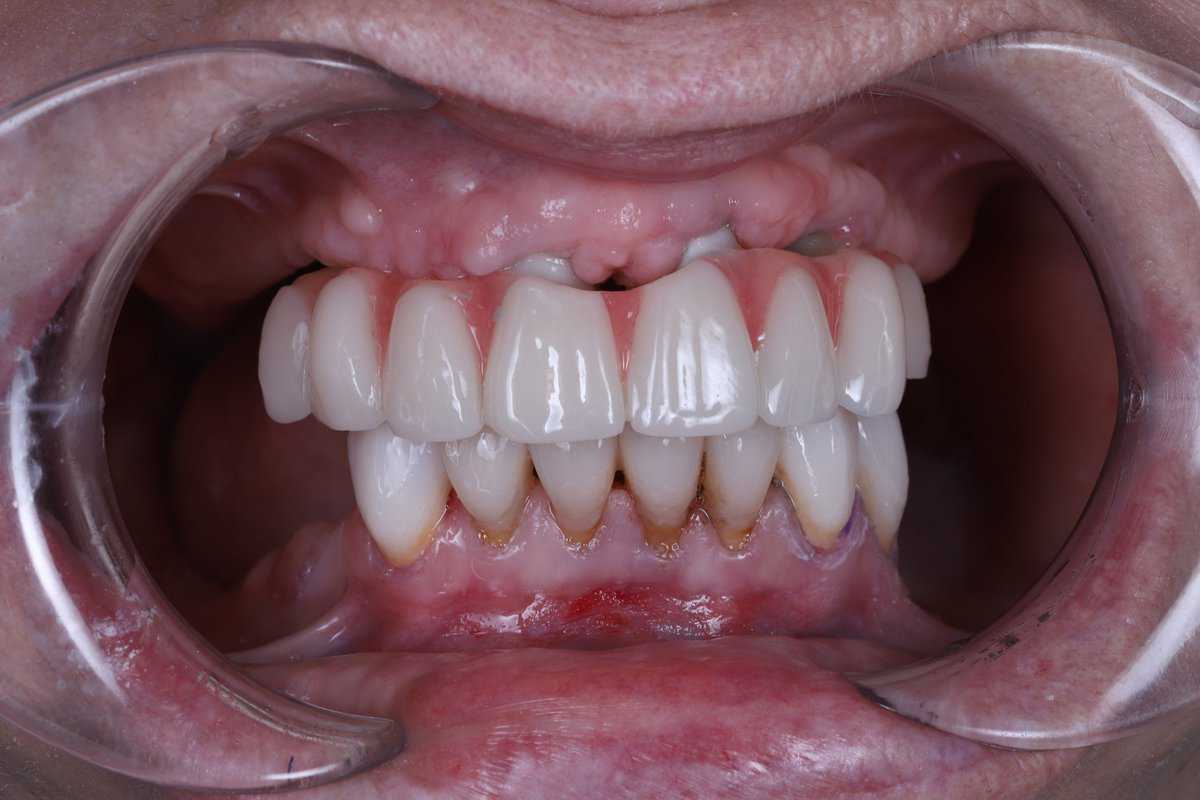 Temporary Plastic bridge on implants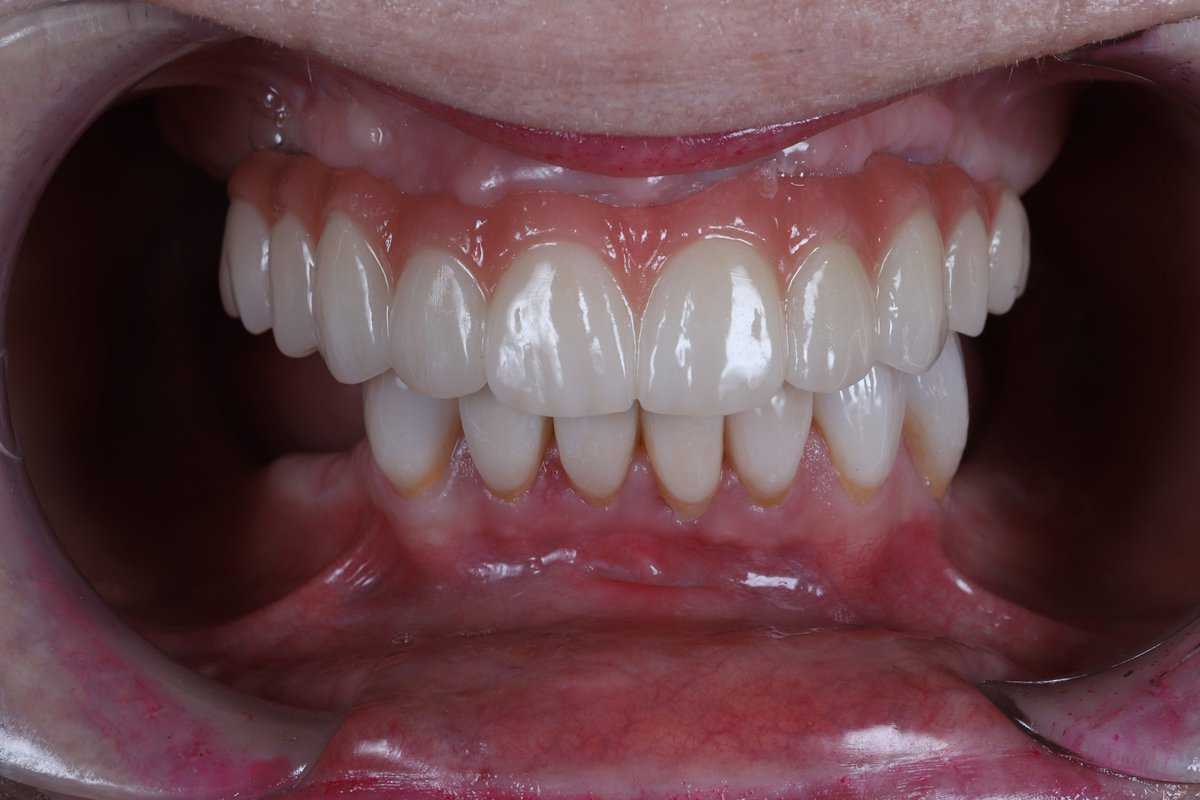 Final Ceramic Bridge on Implants
Do I still need to attend my regular checkup and clean appointments with Implant Retained Dentures?
The short answer is yes! When we perform a checkup and clean it's not just about checking your teeth. We need to access the whole mouth to check if everything is healthy, if there's any signs of oral cancers, infections or diseases and check the implants for any signs of failure. Checkup and cleans are generally required every 6 months. Every 12 months we will do a deeper clean of the implants and prosthesis by removing the prosthesis, cleaning around the implants and then putting the prothesis back in. Contracting gum disease can still happen around an implant and is even more of a concern around implants than teeth. If left to progress gum disease around implants is more difficult to treat and can lead to implant failure. This is why still having regular checkup and cleans are important for patients with Implants.
Do I need to travel to have this done?
No need to travel all the way to Brisbane to have this done, we offer this treatment right here at Harris Dental Boutique! It is helpful to get the procedure done locally as there are several follow up appointments and your regular maintenance and any repairs can be done by a dentist familiar with your case.To explore if this treatment is a good option for you contact the clinic today to book a consultation for a low fixed-rate fee!