 Experience a fully restored smile with the help of Harris Dental Boutique…
At Harris Dental Boutique located in Bundaberg, we see many patients complaining of loose dentures or uncomfortable shifting of teeth due to tooth loss. If you have lost a tooth and would like a more permanent solution to your tooth loss, we are able to offer you the gold standard for restorative dentistry: a revolutionary dental treatment known as dental implants!
Taking the dental profession by storm, dental implants have paved the way for advancements within restorative dentistry, and are the closest thing to a natural tooth! At Harris Dental Boutique we are able to help you regain the functionality of your smile so you can enjoy eating foods you would otherwise miss out on!
What are dental implants?
Dental implants are essentially titanium screws that are inserted into the jawbone at the site of the tooth loss. The implant then merges with the bone over a period of months (a process known as osseointegration), which provides a strong, durable and functional alternative tooth root. These dental implants are then used to support crowns, bridges or dentures, and are so sturdy you will be able to bite into apples or steaks without worry!
Four reasons why dental implants beat conventional dentures…
Dental implants come with an array of benefits and advantages that simply are unmatched by any other restorative dental treatment. Below we have outlined why dental implants are simply a better choice than traditional dentures.
1. Implants feel and look like your own natural teeth
Once your implant has fused successfully with your jawbone, it provides a sturdy and secure base for a dental crown or bridge. This means you will have full control over your new tooth, as you do with the rest of your teeth! Traditional dentures feel far from natural, as many of our patients have attested to, and they also fail to look natural inside the mouth.
2. Implants are permanent
Dental implants provide a permanent solution to your tooth loss. If looked after properly, the dental crown placed over your implant should last for up to ten years. No more worrying about slipping dentures whilst speaking or laughing, and we at Harris Dental Boutique feel that is a benefit in itself.
3. Implants provide more comfort
Because dental implants fuse with your jawbone material, they feel just like your normal teeth. This means your new tooth is indistinguishable from your other teeth, so much so you might forget you even have a dental implant! Traditional dentures differ in this, as they are simply clipped into the mouth they are more likely to slip out or move around, producing discomfort (not to mention low self-confidence).
4. Reclaim full functionality of your mouth!
As previously mentioned, dental implants allow you to eat whatever you like without worrying about slippage, breakage or damage to your tooth. Eat whatever you like, whenever you like and benefit from a fully restored healthy mouth.
At Harris Dental Boutique we have helped many patients restore their smiles…
A patient of ours came in to see Dr Harris with severely worn teeth, and had the ultimate goal of seeing his teeth when he smiled but did not want to opt for a denture. Patient 2 also wanted to be able to chew again without worrying about slippage or breakage. Our answer: dental implants.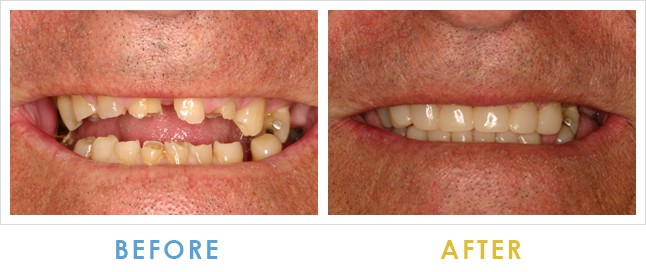 To solve Patient 2's smile woes, our very own Dr Harris built up all of the patient's front teeth to bring him an aesthetically pleasing smile, and placed four dental implants and crowns on the back teeth to provide Patient 2 more function of his teeth when he chewed.
Replace Missing Teeth with Dental Implants
To discover more about our dental implant solutions or to book an appointment at our Bundaberg dental practice, please do not hesitate to contact us.