Don't put up with Loose Dentures in Bundaberg
This patient had been suffering from loose dentures for over 7 years, he had to constantly use denture adhesive to stop his denture from falling out.
His lower teeth were broken down and decayed. After developing a customised treatment plan to suit his needs, Dr Linc removed the remaining lower teeth and placed two implants on the lower to strongly secure the lower denture and made a new Upper Denture to match the lowers.
As you can imagine this patient is extremely happy with his new smile.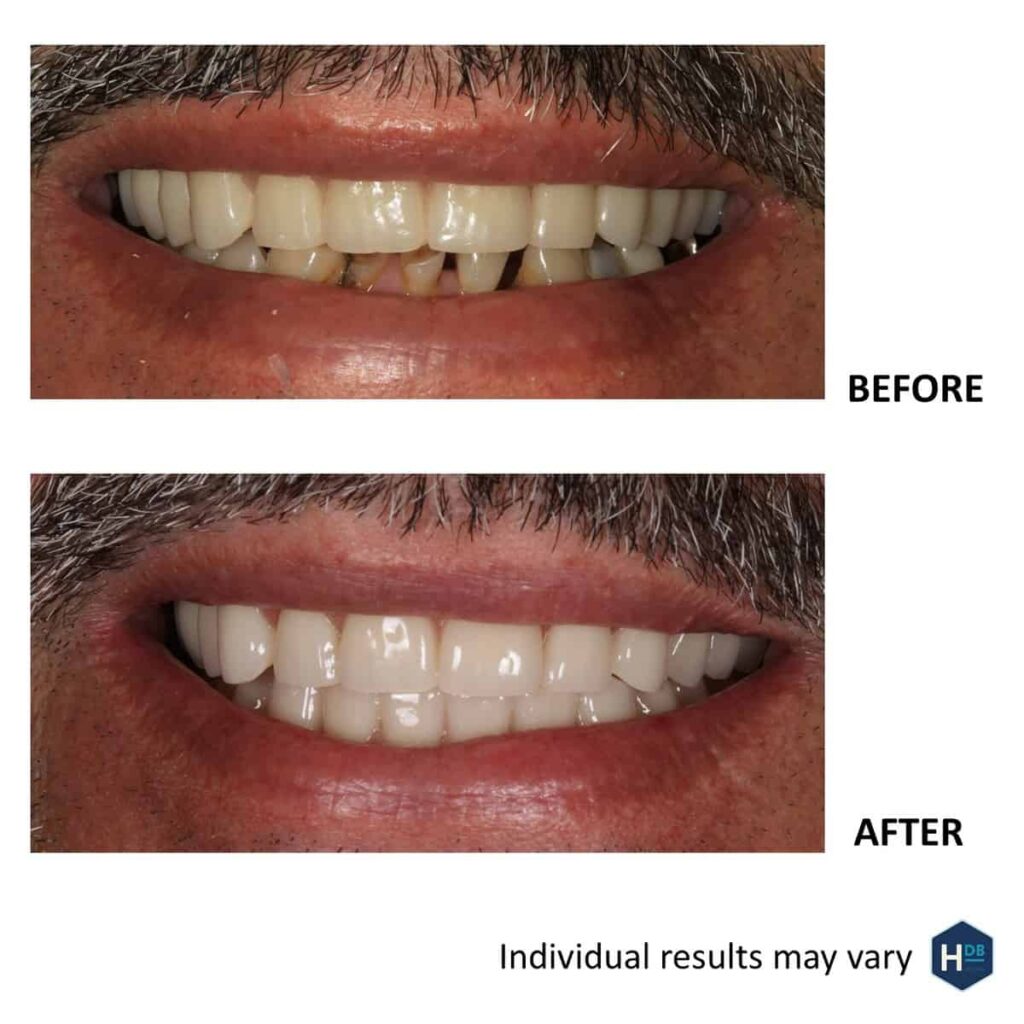 Don't put up with Loose Dentures in Bundaberg
A denture acts as a substitute for your missing teeth. We understand that gaps left behind by missing teeth cause more than just embarrassment – they potentially create problems with eating and speech.
At Harris Dental Boutique, Dr Linc is committed to making your experience with dentures more comfortable, secure and cosmetically pleasing. If your denture is not secured, future problems can arise such as irregular bone and tissue growth. These denture problems can be avoided.  Dr Linc works closely with his Dental Technician to produce high quality dentures that fit well and look great. Dentures are not a one-size-fits-all product, so Dr Linc will continually make adjustments until you are happy.
If you feel like you have poorly fitted dentures
A poorly fitted denture feels like you can not bite into an apple, a steak, or any of your favourite foods or they drop down when you laugh then dental implants could be the answer for you. Dental implants can lock your dentures firmly in place so you won't have these denture problems. With fixed dentures using dental implants, you can regain your natural looking smile and avoid the embarrassment of slipping dentures.
If you have a poorly fitted or loose dentures, find more information about what may be causing it and what to do here.
Dr Linc, Dr Michelle and Katelyn are available at Harris Dental Boutique Bargara dental practice near Bundaberg Monday to Saturday at Shop 2/16 See Street Bargara Q 4670. There is usually appointment times available each day to see new patients or dental emergencies.  Give the front office team a call on  07 4158 5813 to organise a time that suits you Contact Us for more information or book an appointment with Dr Linc here.