Smile Fast Composite veneer makeover

Fast • Affordable • Minimally Invasive
Harris Dental Boutique is the first clinic in Australia to access a revolutionary new approach to smile makeovers and will be the leading educators for dentists Australia wide, providing the essential training required to use the technique.
          With digital 3D planning and a Smile Trial, you can see the end results before any permanent treatment is done & your smile makeover with SmileFast veneers can be done in just 4 easy steps!
SmileFast is a newly developed way to deliver composite veneers at a more affordable price. Being able to design your new smile digitally means we can produce predictable results, and with a Smile Trial you can test out your new smile and request any changes before anything is bonded. 
SmileFast can be used to correct discoloration, reshape edges, restore chips and cracks and even close gaps between teeth. Minor misalignment can also be corrected without orthodontics!
SmileFast can also be used to lengthen teeth that may look too short, which can occur naturally or because of wear and tear over time.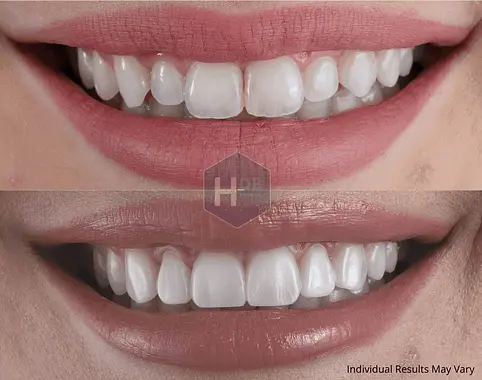 What are Composite Veneers?
Composite veneers are a lower cost, high quality alternative to Porcelain veneers.
They're different from porcelain veneers as they are usually completely additive, meaning minimal tooth structure needs to be altered when they're placed.
Because they are placed in the clinic by your dentist without the need for a lab they can be placed in a single short visit, compared to high quality porcelain veneers which generally takes more than one long visit if done by Harris Dental Boutique dentists. 
The life span of your composite veneers can vary, but often last approximately 8-10 years before needing to be replaced. Touch-ups are usually required before this time, however this time frame varies depending on your diet, oral hygiene, regular dental check-ups and grinding habits. Everyone grinds at least somewhat during the night, but if you're a heavy grinder a guard to wear at night can prolong the life of your SmileFast veneers.
Because they are additive, composite veneers can be easily removed and replaced without additional damage to the remaining tooth structure, unlike when replacing porcelain veneers which wear in approximately  20+ years however may cause additional damage when being replaced.
A SmileFast makeover is fast, but how fast?
Step 1: Consultation + Scans
Your first SmileFast consultation will be between 60-90 minutes. At Harris Dental Boutique we prioritize high quality, patient-goal focused dentistry. We'll chat with you about what your goals are, and what you're looking to achieve with us. Your dentist will then collect the records they need to help plan treatment like photographs, x-rays and a thorough examination of your current oral health, as well as 3D digital scans to plan your new smile. We'll use these records to make a For Life Smile treatment plan with you.
If you feel you need to elevate your smile with some dental whitening, we'll use the scans from your first visit and get you started with some whitening trays and 22% professional whitening gel.
Using your goal as a guide your dentist will design your new smile and at this appointment you will have the opportunity try it on. We'll place your new smile over your natural teeth for you to see it in real life, before any permanent bonding is done. You'll have the opportunity to request any final changes to ensure you love your new smile. 
At this appointment your smile will be delivered by your dentist in one short pain free appointment.
We believe a beautiful smile you can be confident about should be within everyone's budget!
SmileFast is a faster, simpler way to apply composite veneers. We design your smile digitally by taking 3D scans and this allows us to avoid things like impressions and stone models, which means we can create & place your new smile in easier, shorter visits. It also means the costs for us are cheaper, so we're dropping the cost for our patients too to help keep your For Life Smile Treatment Plan within your budget. 
The cost of SmileFast Veneers will vary depending on how many teeth you and your dentist decide you need to reach your smile goal. Book your low cost, flat-fee consultation today to get a no obligation treatment plan.
Do you have different payment options?
We don't think anyone should have to wait to receive the dental care they need. To help you get the treatment you need without delay, our clinic offers you variety of dental payment solutions to suit your lifestyle and budget for all dental treatments.
Have more questions, or want to request an appointment? Click Below